Opening Meet, Russ with Hounds
The Field at Oakland Orchard 2016
Westwood Rabbit
A three-day event rabbit
Hunting at Westwood Rd.
Among the apple tree rows at Westwood Orchard
Ms. Barbara Batterton's Painting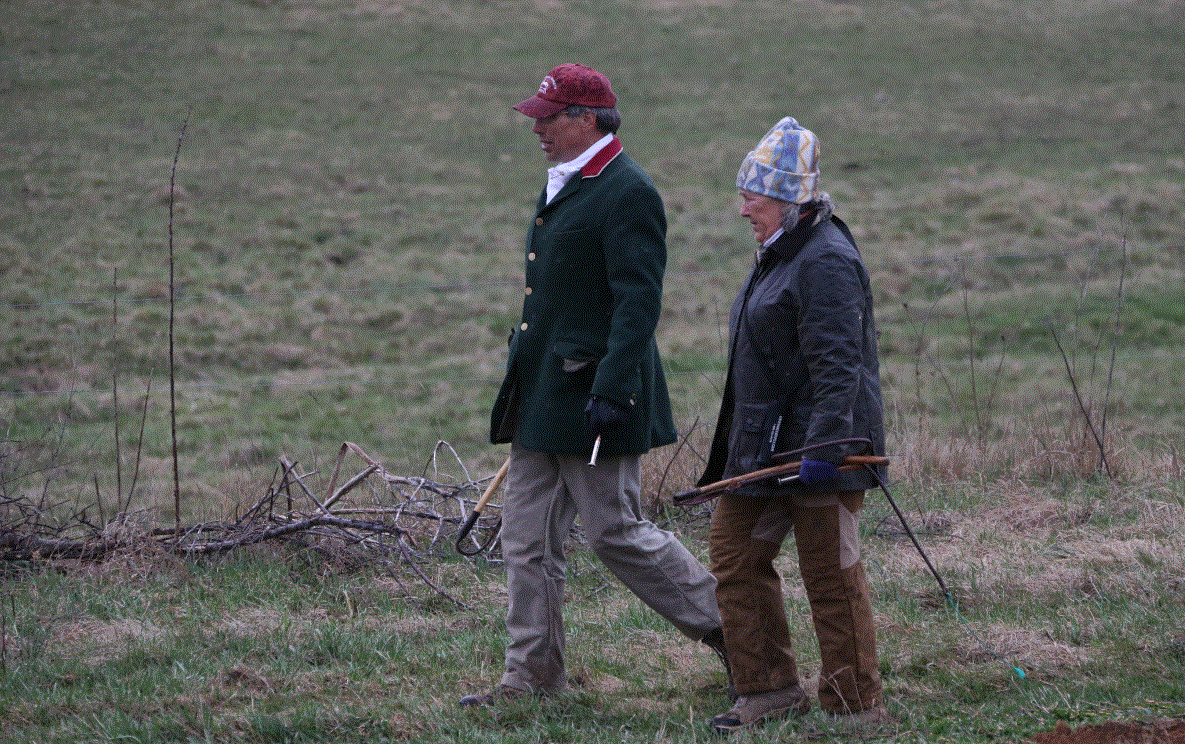 Two Huntsmen, Two MBs
Russ with Joan Barrett, MB of Warrington Foot Beagles
1 | Hounds went out 177 times in the 2017-2018 season; hounds went out 169 times in the 2018-2019 season.
2 | The 'A' litter entered the pack in 2018, and the litters for B, C and D entered the pack in 2019.
​
3 | NTB hounds Ziggy, Yoyo, Mischief, Lily, Fergus, and Newbury were among the hounds who either retired or found a private living room in which to hunt.
4 | The 2018 summer party featured local artist Gail Guirreri-Maslyk who gave a fine lecture on sketching horses and outdoor subjects with a hands-on practice session before dinner.
​
5 | The 2019 summer party was held at historic Long Branch on a beautiful evening and scrumptious dinner. We held a mock show to give juniors a chance to meet, greet and handle hounds and puppies.
​
6 | We participated in the trials at Aldie (and got back in the ribbons after many years); maintained the N-T B cabin, and paraded the hounds at the Blue Ridge Hunt point to point races.
​
​
7 | As usual, the annual fundraiser and dinner at the Millwood Club was a pleasant evening and generated funds to cover the season. Bidding wars occurred on a few items.
​
8 | We published the third and fourth Huntsman's diaries, our gift to subscribers and supporters. Mr. Mitch Zetlin painted a lovely oil, "Tally ho!" for the 2017 cover, and Miss Lynden Willingham produced a fine sketch in charcoal and goauche, "Team Work" for the 2017-2018 diary cover.
​
9 | N-T B continued the Adopt a Highway program on Westwood Road. Sadly, it continues to be an endless task...
​
10 | We "tested the waters" in resurrecting the Beagle Olympics but it was a challenge since 2018 was the rainiest season on record. We thank the Reads for its success and plans to try again another year!
​
11 | We welcomed over 20 new subscribers over the two year period, and numerous cappers.
​